Mount Kenya National Park is undeniably one of the leading landmarks that you shouldn't miss to pay a visit while on a guided or self-drive safari in Kenya. This national park covers an area of about 715 square kilometers making it one of the biggest wilderness-protected areas in Kenya.
It lies within the bigger wilderness which stretches up to 2124 square kilometers. Within the frontiers, there is a spectacular variety of ecosystems which starts at the foothills and stretches to the peak at 5199 meters. At the foothills are semi-arid plains that gradually transition to mountain forests, moorlands, and glacier fields.
Mount Kenya is recognized globally as the best example of an equatorial mountain. This area features the endless crown of ice that counts about 11 glaciers, the biggest of which is the stunning Lewis Glaciers between Teleki Valley and Point Lenana.
This extinct volcano is remarkably Kenya's national icon and a UNESCO World Heritage Site and an incredibly protected escape for forest and lowlands wildlife and the best spot for hikers. The floral diversity ranges from alpine, and subalpine vegetation, to mountain and bamboo forests, tundra, and grasses that extend up to the snow.
The distinct plants and tree support species that change with altitude. The black and white colobus monkeys thrive within the ravines; Skye's monkeys can be spotted on the tracks. The notable big herbivores at this park include zebras that thrive on the Sirimon inclines and buffaloes and elephants can be sighted around the Naro Moru trails and in the thick bamboo forest above 2400 meters.
Other wildlife species include elands, and duikers as well as other antelope families, and denizens like rock hyraxes. The key tourist activities for you to do while on safari in Mount Kenya National Park include camping, cave exploration, hiking, and many more.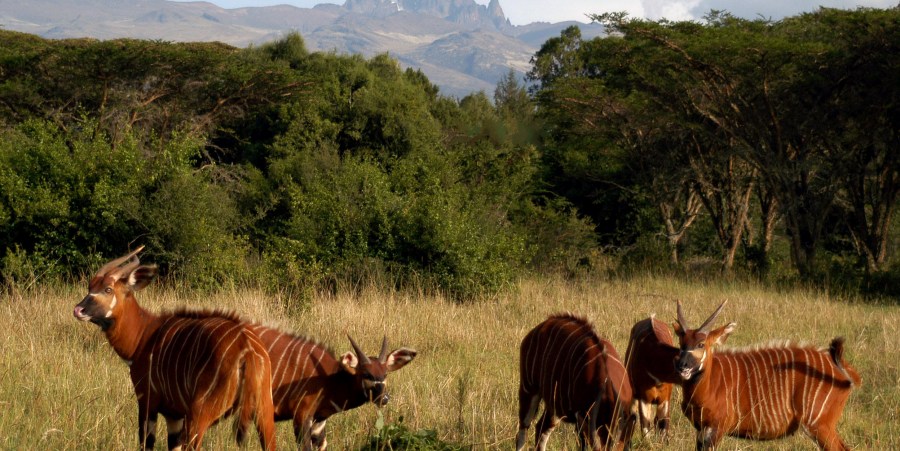 How to get to Mount Kenya National Park
Mount Kenya National Park is situated approximately 175 kilometers away from Nairobi. Visitors can take on the tarmac road that goes around the mountain linking the area's major towns, especially Naro Moru, Meru, Embu, and Nanyuki.
By air, the nearest airport to Mount Kenya is found at Nanyuki or Laikipia airstrip. You can take a flight to Nairobi and then connect to the park by road.
When to visit Mount Kenya National Park
Mount Kenya National Park experiences ideal weather conditions making it an all-year-round safari destination. The average daytime high temperatures range from 20 degrees Celsius especially between June and August to 27 degrees in January and February. After sunset, the temperatures reduce to 7 degrees Celsius and 11 degrees Celsius but this depends on the month that you pay a visit. At night, it is cooler especially from December to February.
The long dry season is experienced towards the end of July to October however, given the fact that this park is situated at a higher elevation, you have to expect rains at any time. The short dry spell is experienced between November and December. The dry season usually occurs from January to February.
Accommodation in Mount Kenya National Park
Mount Kenya National Park features a range of accommodation facilities most of which range from luxury to budget. Fairmont Mount Kenya Safari Club, Serena Mountain Lodge and others.
Finally, Mount Kenya National Park is a stunning safari destination of its own and it is worth including on the bucket list. If Kenya is your dream destination, then never miss paying a visit to this park and you will be amazed by the rare experiences that range from hiking adventures to camping experiences. A visit to this spectacular travel destination offers you the opportunity to catch a glimpse at the beautiful skies.