Climbing Rwenzoris: Who we are?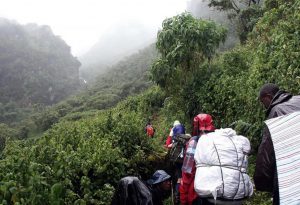 We are Uganda's leading "Mt. Rwenzori Climbing" company.
Mt. Rwenzori Climbing Adventures is an incoming tour operator, offering climbing, trekking, mountaineering and outdoor adventure tours in Uganda, specializing with Mount Rwenzori and Elgon Trekking.
Our reputation has been gained by offering treks and expeditions at realistic prices without compromising on quality yet still remaining responsive to our customer's needs. Our commitment to excellent customer service has taken high ratings from past customers who have climbed Mt. Rwenzoris and Elgon with us previously.
We have received great thanks for our organized, flexible, and professional approach, even in remote regions. Climbing Rwenzoris Adventure trip can be combined with other tour activities like mountain gorilla trekking in the Impenetrable forests of Bwindi, wildlife viewing safari in Queen Elizabeth, Lake Mburo and Murchison Falls national Park, Chimpanzee trekking in Kibale Forest and many other.
Our Great team – Mt. Rwenzori Trekking Uganda
On a Rwenzori Climbing Expedition, you can be sure of being led by professional and experienced guides both in Uganda and in the countries through which we travel like Rwanda, Kenya and Tanzania. All our guides are carefully selected according to their extensive knowledge and appropriate experience, as well as their leadership abilities and personal aptitude. Our expert, dynamic, bilingual and enthusiastic staff are one of our greatest assets. Read More
Our Services and What to Expect?
See what we offer and what you should expect from our great team of professionals. Being Uganda's leading mountain trekking company, expect maximum satisfaction and true value for your money from our services. Read More