Accommodation is one of the things that make Uganda self drive safaris very expensive. It is for this reason that many travelers opt for self drive camping safaris in Uganda. Given the three camping options, that is; glamping, ground camping, and rooftop tent camping; each of them has its own advantages.
However without getting into the comparisons of ground camping and rooftop tent camping; here are a few things to put into consideration whenever hiring a car with a rooftop tent in Uganda.
Rooftop tents have zippers that help you to either keep the tent open or closed. The zippers are some of the things that easily get broken due to poor handling. It is therefore recommended that before you start your rooftop tent camping self drive safari in Uganda, you check and confirm that the Zippers are in proper state.
Malaria is the leading killer disease in Uganda. Even in the times of the Covid-19 pandemic, Malaria remained the leading killer disease in Uganda. It is therefore very important to check whether the rooftop tent mosquito nets are in a proper state.
On top of the mosquito repellents, you will need a rooftop tent with mosquito nets in proper condition. Therefore you must check the mosquito nets before setting out for your self drive rooftop tent camping safari in Uganda.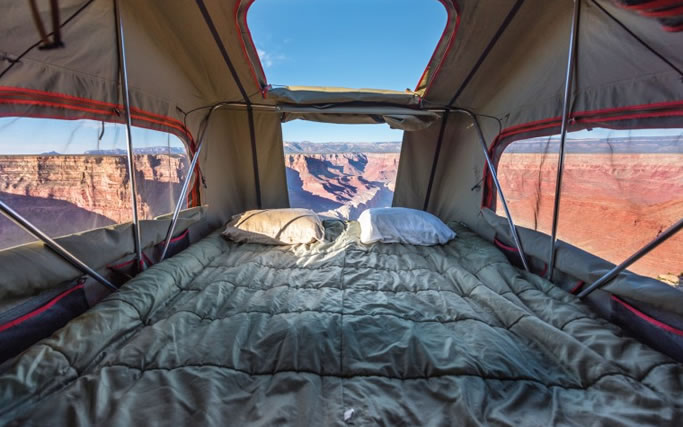 All rooftop tents are made waterproof. But there are variations when waterproofness. Some variations often come about due to the environment or age of the tent. Though most car rental agencies do not offer waterproof sprays, it is highly recommended that you carry your own waterproof spray as a backup just in case the tent is not fully waterproof to withstand heavy downpours.
Ask For a pair of Pillows
It is important to note that some camping lists do not feature pillows. Some self-drive car rental agencies charge extra in order to offer you pillows. For this reason, it is important to double-confirm whether your rooftop tent provider in Uganda will offer you pillows.
Ask for a Pair of Sleeping Bags for 2 weeks or longer hire
You will not have the opportunity to wash your sleeping bags during your trip. In order to have clean sleeping bags even after 10 days if you are using them daily is to carry an extra pair to use once one pair has already gotten dirty.
Book a Car with a Side Awning
It is not very common to get a car with a car side Awning. You will have to be specific when hiring a car from any car rental agency in Uganda. Most car rental agencies do not have the option of car side awing; therefore it will cost a little extra to get a car with car side awning.
The car side awning always comes in handy when cooking during your camping safari. The shade also gives you an opportunity to simply sit and observe nature during your camping safari.
There are mainly two rooftop tent options, a soft shell rooftop tent, and a hard shell rooftop tent. Hard-shell rooftop tents are easier to set up than soft-shell rooftop tents. It will save you a lot of set-up time when you hire a car with a hard shell rooftop tent than when you hire a car with a soft shell rooftop tent.
However, it is also important to note that most car rental agencies in Uganda charge a little more for hard shell rooftop tents but if you are hiring for two weeks or more, you can get a better bargain.